Hey Hey Friends!!  It's time to get started talking about something SO GOOD FOR YOU but that you may not know a lot about yet—SUPPLEMENTS.   Young Living is so much more than essential oils, and one of my absolute favorite parts about this company is their dedication to creating top-quality, oil-infused supplements for us.  
Ever feel like you could just use an extra boost?  A little help to keep your body running smoothly? Concerned about gut health or your immune system?  We will cover some great natural essential-oil infused options for you so that you can stay feeling healthy, strong, and calm.   What more could you ask for, right?
And the supplements we walk through in this class are the first best steps in SUPPLEMENTING YOUR HEALTH with Young Living.  These are the foundational choices, the ones that will help your entire body work the way it's designed.  
Get your wishlist out (I know you already have one, right?) because you are going to be adding a few things to that next Essential Rewards order; I guarantee!!
***We are NOT physicians! None of the information we share today is intended to diagnose, treat or cure any illness or condition that you have. If you intend to use essential oils and have a medical condition that is currently being treated with prescription or OTC meds, PLEASE discuss your transition to using essential oils with your doctor. Pursuing a natural alternative is a good thing, but it can also be very dangerous if not done with the proper supervision, especially if you are currently on multiple medications!***
Good question…
Take minute to consider some of the following information:
Lifestyle choices, depleted soil composition, and common environmental toxins all play a role in stripping our food of the nourishing composition it once had.  With the hurried lives we lead, our bodies are pushed in all fronts: work, family life, social events, sports activities, and so forth. Taking kids to practice, working multiple jobs, and running from social activity to social activity eventually changes our eating habits and puts a strain on our digestive system and its ability to pull out all the nutrients from the foods we eat. 
The composition of soil in farming has diminished over the years as some farmers take short cuts or add chemicals to soil, taking away from the nutrition  we are expecting from even "clean" eating. The soil is often mineral deficient, leaving the food mineral deficient, leaving us mineral deficient even when we feel like we are making good choices. 
Our preparation of food through processing, cooking, and preserving also often lead to less nutrients and the environment is often increasing the number of toxins we face.  
So. . .  we have the need for good nutritional supplements to help strengthen and restore our bodies.  We want stronger immune systems, healthier cognitive function, more energy, and longer quality lives.  It's time to empower yourself and your family by supplementing your wellness. 
Of course it matters!
So yea…  supplements are good, but what makes Young Living supplements better than all the others supplements out there?  
As we'd expect, Young Living formulates their supplements not only with high quality ingredients like herbs and vitamins from plant sources, they also infuse them with the best quality essential oils. 
Essential oils add their own benefits of supporting all our body systems from the nervous system to the endocrine system to the cardiovascular system.  This gives the Young Living supplements the extra effectiveness to supersede the poorer quality products we often find on the shelves.  
As essential oils clean cell receptor sites (allowing the body to receive the supplement more efficiently), they offer a better absorption rate so that our body uses more of the nutrients and wastes less than a typical supplement. 
Simply put.  Young Living puts the kind of research, care, and quality ingredients into their supplements that we've already experienced in their essential oils.  
And when you order them through your Essential Rewards, you not only get rewarded, they arrive right on your doorstep, saving you a trip to the store!  That's a HUGE PLUS in my book!
If you start flipping through the Young Living product guide, you may soon become overwhelmed at all the options, not only for amazing oil blends and personal care products, but at all the supplement options as well.   So, let's simplify and start with those meant to be FOUNDATIONAL supplements, ones that focus particularly on regulating your body and keeping it working at its prime. These particular choices will help you begin adding in much needed vitamins, minerals, and immune system support before determining more specific areas to target with other supplements.  
So, let's get to it . Today's class will cover Master Formula, Mineral Essence, Omegagize, Inner Defense, Super C, Super B, Longevity and MultiGreens.  It's time to start taking some notes.  
Master Formula
Let's start with a powerhouse. 
Did you know that the soil where our food grows has been depleted of nutrients needed in our food?  It's true! AND it matters. So, since we are missing vitamins and minerals in our diet, it's important that we add something awesome like Master Formula to our daily regimen.  
It's called the MASTER FORMULA for a reason.  It includes 25 key dietary elements with a minimum of 100% of the daily recommended amounts of 14 different vitamins and minerals.
MasterFormula is unique.  It comes with a packet of a variety of types of supplements.  Tear it open and experience the GOODNESS!

There are three different kinds of pills that make up the four of them, allowing for 3 distinct delivery methods: liquid vitamins infused with essential oils, powder nutrients, and a phytocaplet.… I'll detail through each here and give you some benefits!

**The liquid essential oil capsule:  turmeric, cardamom, fennel, ginger, and clove essential oils. This is a great combo that works well together selected by Gary Young for their supporting properties and the way they work well together. This liquid capsule also contains your fat soluble vitamins: A,D,E, & K. It contains a unique vegan form of Vitamin D3 (Vitashine), a bioavailable form of Vitamin K and Vitamin A is from beta carotene.

**The micronized nutrient capsule features an organic blend of B Vitamins, except for B12 which is the methylated form. Plus Biotin, Pantothenic Acid, Magnesium, Zinc, Selenium, Copper, Manganese, Chromium, and Molybdenum. The second contains a powdered capsule proprietary blend including Atlantic kept, Inositol, PABA, Lycopene, Spirulina algae, and Barley.

**The phytocaplet contains antioxidant ingredients and Vitamin C. It includes the proprietary blend of Spectra® which is made up of fruits, vegetables and herbal extracts including coffee arabica fruit extract, broccoli sprout concentrate, onion, and apple extract. Also including the concentrates of tomato, broccoli, acai, garlic, basil, turmeric, oregano, cinnamon, elderberry, carrot, mangosteen, blackcurrant, blueberry sweet cherry, blackberry, chokeberry, bilberry, acerola, camu camu, and brussel sprout.

 Mineral Essence
Mineral deficiency is actually a huge problem for our health in our culture because of years of farming techniques that have not preserved useful soil. So, even when we are eating clean and filling our diet with fruits, vegetables, and legumes, these foods are likely deficient of the minerals we once got from the soil.  Therefore, a mineral supplement has become vital for many of us. 
Why are minerals an important part of our regimens?  
 Both vitamins and minerals are significant for our body's growth and development.  From bone strength to hormone balance, from the nervous system to the cardiovascular system, minerals keep the body functioning at its prime—which is our goal in the first place. 
According to two time Nobel Prize winner Linus Pauling PhD, "You can trace every sickness, every disease, and every ailment to a mineral deficiency."
This unique supplement from Young Living comes in a liquid form. Mineral Essence combines sixty ionic minerals in a base of royal jelly as well as essential oils. Ionic trace minerals include iron, zinc, silicon, fluorine, boron, lithium, sodium, sulfur, magnesium, chloride, selenium and thallium.
Supplementing these minerals into your daily health plan offers you a strong wellness foundation.  
 OmegaGize³
How many of you are like me?  Sometimes we look for foods that are simply convenient and that means lots of processed foods instead of the natural ones our body needs.  It happens. So since our diet is often lacking of the omega-3s and fatty acids our ancestors were accustomed to with more natural diets, we need to make sure we are getting in some extras.  The list of benefits of Omega-3s is LONG, including kidney health, hormone support, and circulatory wellness. Your body needs these to continue being strong and energetic. It's particularly important for our brain health AND endocrine system.  These fatty acids are truly must-have supplements. 
Young Living's superb answer to this deficiency in our bodies is called Omegagize.   OmegaGize³™ combines the power of three core daily supplements-omega 3 fatty acids, vitamin D-3, and CoQ10 (ubiquinone). These supplements combine with our proprietary enhancement essential oil blend to create an omega-3, DHA-rich fish oil supplement that may support general wellness. Used daily these ingredients work synergistically to support normal brain, heart, eye, and joint health.
Go ahead and add this one to your Essential Rewards cart TODAY!  
 Inner Defense
Inner Defense is my don't-run-out product for my wellness cabinet.  I've been known to two day ship it in a Quick Order when I've realized we are out.  It's POWERFUL immune system support. 
 But it's not a daily supplement for me.  This is a supplement that I save to take when I am feeling like I may fall below the wellness line, and my body craves a little boost.  
Inner Defense comes in an easy to dissolve softgel that works quickly in your body.  And supports the body in various ways. It provides a defense for all of your body systems.  In addition, it helps your body avoid yeast and fungus by providing an environment in your body that discourages their growth.  Inner Defense also promotes respiratory support to help you keep breathing easy, especially in the winter and all those high-germ seasons of our life.   All in all, it becomes a true DEFENSE for our bodies. Thieves oil, oregano, and thyme work together to keep our immune systems strong.  
 Super C
With busy lives full of lots of people, most of us could use an immunity boost on a daily basis.  Say Hello to Super C. Vitamin C is one that our bodies cannot produce on its own, so adding it to  our "extras" each day can be crucial to immune support, circulatory health, and maintenance for connective tissues in our body.  It's seriously a vitamin that simply encourages a body to have health, vitality, and longevity. Isn't that what we are looking for?
This particular chewable includes Vitamin C (ascorbic acid), acerola cherries fruit extract (Malpighia glabra), citrus bioflavonoids from lemon, and essential oils including lemon and orange.   The formula used specifically increases the absorption rate of the Vitamin C into your body, making this supplement more effective and valuable than others on the market.  
Super B
You've probably heard of the importance of adding B Vitamins to your daily regimen.  However, I want to introduce you to Young Living's SUPER B. We don't do just ordinary around here, right?   So. . . let's figure out what makes this particular complex so super:
Super B is a comprehensive vitamin complex containing all eight essential, energy-boosting B vitamins (B1, B2, B3, B5, B6, B7, B9, and B12). Recently reformulated, it now Features Orgen-FA®*, a natural folate source derived from lemon peels, and methylcobalamin, a more bioavailable source of B12.
Combined with nutmeg essential oil and bioavailable minerals such as magnesium, manganese, selenium, and zinc, Super B not only assists in maintaining healthy energy levels, but it also supports mood and cardiovascular and cognitive function.
B vitamins are essential to our health and well-being, and each B vitamin performs a unique and separate function in the body. Unfortunately, they must be replenished daily, as they are not stored in the body.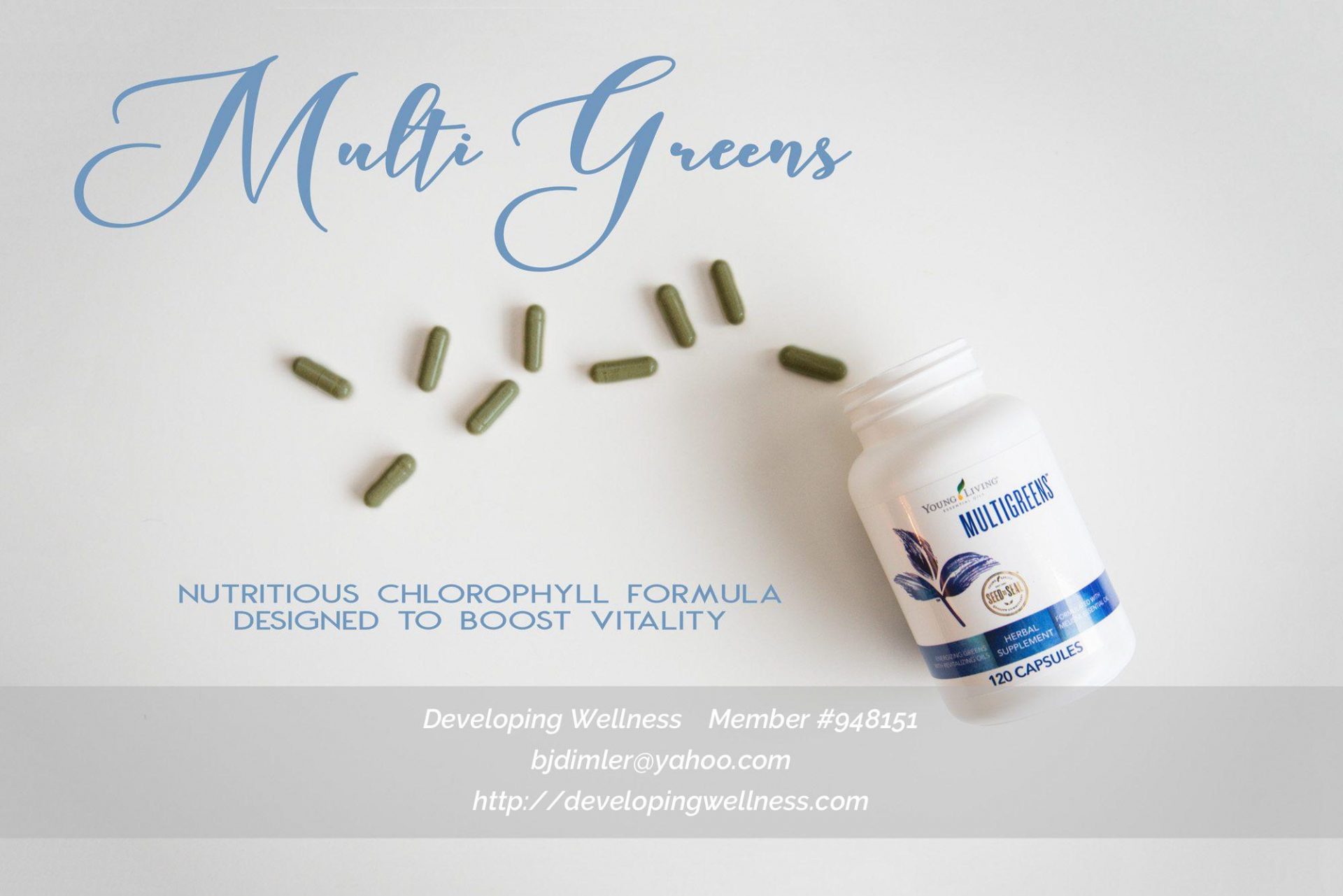 Multigreens
Raise your hand if you eat enough vegetables each day? Bueller? Anyone? 
Did you know that according to the CDC only 12 percent of Americans eat the minimum amount of fruit recommended? AND only 9 percent get the two to three cups of vegetables a day that are recommended!
Those numbers are bleak, folks! MultiGreens™ is a nutritious chlorophyll formula designed to boost vitality by working with the glandular, nervous, and circulatory systems. 
The combination of bee pollen and essential oil blend helps to increase assimilation of the nutrients with an excellent choline source for energy production. Plus! It contains 5 green superfoods including alfalfa, Siberian ginseng, barley, kelp and spirulina.
MultiGreens also contains an amino acid complex including L-arginine helps nutrients to get delivered at the cellular level.  And don't forget! In the mix of essential oils includes MELISSA oil!! (highly coveted and $$$!) 
 Longevity
This super-blend also has a bottled counterpart as a 15ml blend or 5ml Vitality bottle!
As we age (and just go through life) we experience more and more oxidative stress (google: free radical theory!)  The Longevity supplement was made with this in mind! Cellular health is important at every stage of life, so these capsules should be taken daily (by adults) to strengthen the body's systems to prevent the damaging effects of aging, diet, and the environment.
These softgels are a potent, proprietary blend of fat-soluble antioxidants. Enriched with the pure essential oils Thyme, Orange, and now Frankincense, Longevity protects DHA levels, a nutrient that supports brain function and cardiovascular health, promotes healthy cell regeneration, and supports liver and immune function. Longevity also contains clove oil, nature's strongest antioxidant, for ultra antioxidant support. 
Now, let's chat ORAC values/levels for a bit here…  ORAC tells you the antioxidant capacity of a food item. (this is a measurement that was developed with the USDA at Tufts University in Boston) When we think "what foods have high antioxidant properties" we think of blueberries, pomegranates, goji berries, acai berries and so on…
Well??? Goji berries maybe alllll the rage now – they come in at a rating of 4,310.  Not too shabby!

However Dark Chocolate comes in at 20,816!!  (leaves the class to go grab some DC!)

Pecans actually score a 17,940 and Elderberries come in at 14,697!

BUT GUESS WHAT!
When you combine alllll the oils in the Longevity blend, they come in at a rating of 1,500,000
Yup – you read that right 1.5 MILLION!  (these are all measured at µTE/100g)
Please tell me you're ready to order some of that now, aren't ya?
Next Steps
I know.  This can all seem overwhelming sometimes, right?  How do we decide where to start?   
Listen to your body.  What are your biggest wellness needs?  How about your family's? And begin to supplement what you need MOST, and then keep exploring this question each month and adding new supplements as your needs change or as you grow aware of areas of your body that need focus. 
But the beauty of these foundational supplements is that there is NO wrong place to begin.  Virtually everyone needs these vitamins, minerals, fatty acids, and essential oils, so your family will surely see supported health as you add them into your routines. 
How do we do this and get the best bang for our buck?  You order them on Essential Rewards, of course. ER allows you to COMMIT to your wellness and budget it into the family budget.  THIS is crucial because when we make this financial commitment, we are less likely to go back to our old, toxic habits.  
Not sure how to do this?  Take these steps:
Log into your Virtual Office. 

Find Essential Rewards. 

Follow the steps to choosing a date and products. 

Be sure to add at least one or two of these foundational supplements. 

Set a reminder on your phone to evaluate your ER order before it processes the next month!

Be healthier than you ever have before. 
Nice plan, huh?  It's TRULY possible!  Keep exploring this Young Living lifestyle until you find yourself feeling better than ever!!